All month, Sixoh6 has asked some of the smartest women we know to share their work about other women in honor of Women's History Month. Today, we are joined by Kimberly D. Schmidt, full professor of history at Eastern Mennonite University and director of the Washington Community Scholars' Center. Her research interests include Amish and Mennonite women's social history and women's histories of the Southern Cheyenne, and she teaches about local multicultural history, the histories of social movements, and the lived experience of poverty in Washington, DC. She is the author of Magpie's Blanket, which was a finalist for a Women Writing the West WILLA Literary Award, historical fiction category, and Strangers at Home: Amish and Mennonite Women in History.
Today, she shares with a sermon she preached at Hyattsville Mennonite Church in Hyattsville, Maryland, on January 21, 2018. Readers may want to briefly review Leviticus 24: 17-20 and Matthew 5:38-42, both of which deal with the "eye for an eye" teaching of the Hebrew Bible.
*****
He's everywhere. Pick up just about any Mennonite publication, online or print, and I'll bet my grandmother's sacred zwiebach recipe that Dirk Willems makes his ubiquitous appearance. As historian James C. Juhnke wrote, his image can be found "on church banners, Sunday School curriculum publications, church bulletins, conference brochures, periodical mastheads, newspapers, books, and even on the label for a [failed] Mennonite beer." Apparently, he also inspires Tom and Jerry cartoon knock-offs and dog sweaters.[1]
There's Dirk, skinny from being imprisoned and eating nothing but watery gruel, descending with knotted rags from his jail cell window and skimming across a frozen pond, escaping a certain death when his pursuer, a well-fed and hapless member of the local brute squad, falls through the ice.
So, what does Dirk do?
That's right–Dirk turns, reaches back and hauls his would be captor from the icy currents. For his selfless heroism he is promptly re-jailed, tortured, tried and sentenced to be burned at the stake at dawn.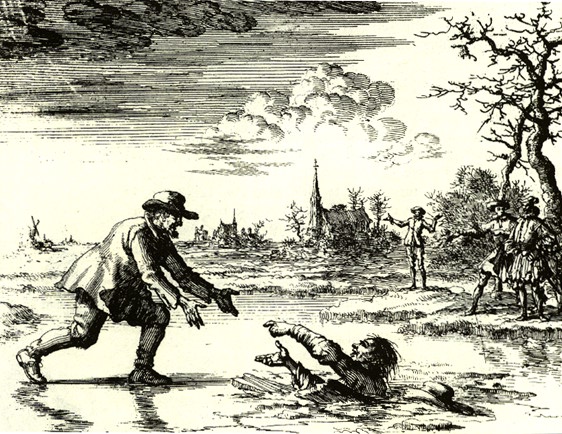 Dirk Willem's story, as told in Martyr's Mirror. Dirk is on the left, having turned back to reach his arms out to his would-be captor, who has fallen through the ice. Three men look on from the bank.
Now, that's as far as most people get. Did you know that the pyre refused to burn? The wind was too strong and kept blowing out the "lingering fire," leaving Dirk burned from the waist down but alive. Thieleman J. van Braght, the sixteenth-century author of the Martyrs Mirror, wrote that Dirk cried out in agony at least seventy times before the constable in charge implored the nearby executioner to find a way to quickly and mercifully dispatch Dirk.
Mennonites are people of the book. Our sixteenth-century Anabaptist Reformation was fueled not only by missionary zeal and disgust with indulgences and the corruption of the Catholic Church at that time, but by the printed page. Many early Anabaptist leaders were writers, printers, booksellers and theologians. We are named after Menno Simons, who chronicled our beliefs in non-resistance, but I think it's fair to say that, more than Menno, Dirk captures our imaginations. Dirk is our "most popular martyr," according to an recent article in Mennonite World Review, and his story has endured on the printed page in the Martyrs Mirror.
First published in 1660, the "Martyrs Mirror has functioned, and continues to function, as a measure of Christian faithfulness," writes religious historian, David L. Weaver Zercher in his 2016 book, Martyrs Mirror: A Social History. He continued, "van Braght's book has proven enduring, in part, because of his emphasis on "apostolic succession" — the idea that a small group of believers preserved the true gospel (characterized by nonresistance and adult baptism) in an unbroken line since the days of Christ. Thus, whoever claims ownership over Martyrs Mirror can also portray themselves as Jesus' rightful heirs."
Historian Ben Goossen in a review of Zercher's book added, "Put differently, martyr tales are always about power, especially the power to induce social and theological conformity [emphasis mine]."
Dirk's Martyrs Mirror story, defines Anabaptist-identifying people. In his article on Dirk, Juhnke cites "a missionary" who claimed that, "This story is quite possibly the most potent illustration in the Mennonite subconscious."
I agree: Except for the Jesus story, it is the most defining narrative of our collective identity.
In the 1990s and early 2000s a number of essays were published in the Mennonite press about the relevance of the Dirk Willems story to Mennonite identity today. From what I found the authors all agreed that Dirk Willems should be celebrated, unconditionally. The Willems story, more than any other in the Martyrs Mirror, induces social and theological conformity in Mennonite churches.
–"Dirk Willems warns Mennonites not to expect to be rewarded for good works–a sharp contradiction to the American gospel of success."
–He teaches us to have compassion for the enemy.
–He teaches us about self-sacrificial love.
–He teaches us about dying for our beliefs.
–He teaches us how to follow Jesus's words and "turn the other cheek."
There is much to applaud about the Dirk Willems narrative.
But, there are problems:
In 1997, I gave a paper at the symposium "Mennonite and Jewish Ethnic Identity in America," held at the University of Maryland at College Park. At the conference were a number of adult children and grandchildren of Holocaust survivors and also Mennonite scholars and community people. When the aforementioned Juhnke told the Dirk Willems story, the Jews in the audience erupted with surprised laughter. They asked, "Why on earth would you go back to rescue your captor? Jews would never rescue Nazis. How stupid can you get?" The Mennos in the audience were dumbfounded. I've never forgotten the Jewish reaction to our most highly revered story.
Why has the Jewish reaction to Dirk Willems remained so powerful for me? Probably because of its relevance to my life, both personally and politically.
Mennonite women suffering from abuse and harassment and who are encouraged to embody the Dirk Willems story face a double bind: First, they must rescue their abusers. Second, they must submit to their abusers. I would go so far as to argue that rescuing an abuser is an act of submission. Victims must, as Goossen wrote, adhere to the martyr story as it induces social and theological conformity. To decide not to go back, to not reach back and rescue your captor goes against our primary theological identity. It is something most of us are not willing to challenge.
How many times did I go back and try to "rescue" an abusive husband? I still wonder at how blind I was. During our courtship, I should have paid more attention to his court records, his run-ins with police, his lack of boundaries with female friends, and his belligerent behavior at parties and with waiters, shop owners, and those who are hired to serve in businesses where the "customer is always right." These confrontations during courtship escalated in marriage to fits of anger, violent rages directed not only at others but also at me and our children, including physical, psychological, and emotional abuse. By the end of our marriage, when I had finally given up hope in redemption, I remember thinking, "Don't go back. Don't pull him out of the water again. Just let him drown."
The Dirk Willems story taken with no criticism, no thoughtful analysis, and no alternate narratives can hold people in abusive, trapped places, especially when relational power dynamics are skewed.
The struggle I had with rescuing my now ex-husband resulted in revictimization.[2]
I knew that pulling him out of the water would result in once again having to protect myself and my children from his violence.
I knew that pulling him out of the water resulted in codependency. I stayed with him in spite of his unhealthy behaviors and supported him at the cost of my own mental, emotional, and physical health.
Pulling him out of the water was not a healthy choice.
Pulling him out of the water resulted in years of shame and silence.
I don't doubt that the Willems story holds powerful truths for many, but with this sermon I am issuing a clarion call. We've taken it too far.
I am not the first to express skepticism. Writing in 1992, Melvin Goering wrote, "The theological assumptions and social context of Mennonites at the end of the 20th century are so different from the world of Dirk Willems, a comparison raises doubts whether the martyr stories can provide guidance for the 21st century." In 2002, Ross L. Bender introduced class when he questioned how wealthy BMW Mennonites could possibly identify with a sixteenth-century outcast. With this essay I am introducing gender as yet another dynamic and analytical tool. How does the Willems story change when gender is introduced?[3]
As an abused wife, I could not be helped by Willems. I needed an alternate narrative, one that pushed me across that frozen river and shouted at me to keep running.
Lest some of my audience sitting comfortably in pews think, "Well, that's just one woman," let me remind you of the #MeToo Movement, now bringing down men in high places.
Let me remind you of Roy Moore's alleged sexual abuse of teen-aged girls, which thankfully cost him an election, if nothing else.
Let me remind you of the women's marches held across the country and around the world.
And, let me remind you of the legions of women who came forward to finally level charges at the celebrated Mennonite theologian, John Howard Yoder. In this case, the personal has become unabashedly and powerfully political. In these cases, Dirk is a woman and Dirk needs to run. Run, Dirk, Run.
Probably because of the Groper-in-Chief's presence in the White House, so-called women's issues, sexual harassment, and abuse of power are in the headlines. I say "so-called women's issues" because the great majority of perpetrators are men. Women are predominantly the victims of these crimes and men are the abusers so why are these called "women's issues?" Seems to me abusive men are the ones with the issues.
So how can we as a community respond to the overuse of Willems?
I suggest we come up with alternate narratives.
Here's one:
Helena Von Freyburg, another early Anabaptist leader, ran.[4] She was a noble woman in Kitzbühel, in present-day Austria, under fire from Hapsburg authorities during the Anabaptist Reformation. When her position, title, connections, marriage to a powerful man, and personal wealth couldn't protect her, she did not submit. She did not rescue. She ran, first to Constanze, in present-day Switzerland, then to Augsburg, in present-day Germany. In all three locations, KitzbühelKitzbühel, Constanze, and Augsburg she formed congregations, testified, and used her considerable resources to protect her fellow fleeing Anabaptist refugees. She did not submit to authorities. In fact, she outwitted them on several occasions. The Swiss authorities were so frustrated with her that they called her "die bose Freybergerin," (the evil Freybergerin): A "nasty woman" of her day.
At one point the ecclesiastical leaders of Kitzbühel said they would allow her back into the city without imprisonment if she would renounce her faith, publicly, and on Sunday morning during church services. It was thought that her public renunciation would severely damage the local Anabaptist cause. She agreed to this plan. But, then she must have thought better of it. She contacted a low level Vicar and gave her testimony in private. There was no public recantation. Soon she was back to her usual habits of harboring Anabaptist refugees in her castle, hosting church services, planning debates between theological luminaries, and teaching and praying with locals. Much to the frustration of the Hapsburgs, the congregation began to grow again. Auch meine gute. Diese Bose Frau–that evil woman! Eventually the pressure became too great and she fled from Kitzbühel. She died in Augsburg. She was one of just a handful of early leaders to die a peaceful death. In Helena's case, Dirk was a woman and she kept on running.
Helena's story presents an alternative narrative, one in which the would-be martyr outwits authorities and escapes. Her escape should be just as celebrated as Dirk's martyrdom. After all, are not Mennonites also people of the road? Until settling in North America we were a migratory people. Stories that didn't make it into the Martyrs Mirror but that have been passed down through our families include sliding through hidden trap doors in barns to escape the Täuferjäger, the anabaptist hunters.
Helena's story also presents an equally powerful, moral narrative where a woman takes smart, life-affirming action. She escapes oppression and actively builds and leads a strong supportive community.[5]
Another response to Dirk's overuse is to come up with alternate visions of Dirk.
If Dirk becomes a woman, he can also become group of people. What if Dirk is not alone? What if that ubiquitous lithograph from the Martyr's Mirror pictures a group of people, standing on the ice, pulling the jailer out of the water but also blocking him from reaching Dirk. The jailer is confronted. Dirk gets away. Dirk doesn't get burned.
This second response involves more community involvement. I know from personal experience that in some cases you can't keep turning the other cheek in Christian love and expect the situation to change. Someone other than the victim needs to call the perpetrator out. Someone other than the victim needs to box him in. Someone other than the victim needs to come up with accountability measures. The victim shouldn't have to be the only one doing all the rescuing.
Here I turn to the work of Marty Langelan, a community safety expert who teaches anti-harassment workshops throughout our region.
Good men must recognize that this is men's issue. Good men must step up. Women confronting abusive men on their own are rarely successful without male allies. I don't think I am being anti-feminist to recognize the gender imbalance still present in our society and to call on men to help do the rescuing. Until our culture shifts, and I think it's shifting now, women need men to help do the heavy lifting.
Not just women but men, too, must confront the chasing, abusive men and call them out to change their behavior. They must be willing to take risks and run out onto the river and over that frozen ice. They must risk drowning to support the victims. If they stay on shore, they remain silent bystanders, they perpetuate the power imbalance and embolden and validate the abusers. And, Dirk gets burned once again. Abusers and bullies look to other men for validation. When this stops, they will stop.
I'm tired of watching women burn. I'm tired of being burned.
Langelan writes, "We all have a moral imperative to take action — individually as [active] bystanders and collectively as a community. It's our responsibility to provide escape routes, resources, and a community moral framework that frees the oppressed (and does not burden the victims with the duty to rescue their oppressors)." [6]
I ask that we change our images and pictures of Dirk to include a host of people on the ice. Not just two men, but women and men, shielding Dirk, hauling the jailor from the ice, calling into account. Protecting and rescuing. The community, women and men, need to stand with Dirk.
But until that happens, until our culture truly shifts and victims, be they men or women, aren't alone on that ice, I say:
Run, Helena, Run!
Run, Kim, Run!
Run, Dirk, Run!
Amen.
****
[1] Artist Ian Hubert created several drawings for Tongue Screws and Testimonies: Poems, Stories, and Essays Inspired by the Martyrs Mirror. Kirsten Eve Beachy, ed. (Scottdale, PA: Herald Press, 2010). This one, "Views from a Pond: Dirk–Cat and Mouse" serves as the frontispiece for the chapter, "Enemies":
Below, your dog can now share the good news of Dirk Willems!
[2]After I wrote this sermon, I read Stephanie Krehbiel's essay "Staying Alive: How Martyrdom Made Me a Warrior" in which she wrote that because of the Martyrs Mirror she "associated Mennonite-ness with victimization." In Tongue Screws and Testimonies: Poems, Stories, Essays Inspired by the Martyrs Mirror, Kirsten Eve Beachy, ed. (Scottdale, PA: Herald Press, 2010): 133-44.
[3]Ross L. Bender, "Writing for Mennos, or not" in Tongue Screws, op cite, 260-1. See also, Melvin Goering in "Dying to be Pure: The Martyr Story." I may be the first to explore the limits of martyr narratives in terms of gender and abuse dynamics
[4]For biographical information on Helena Von Freyberg see C. Arnold Snyder and Linda Huebert Hecht, eds. Profiles of Anabaptist Women: Sixteenth Century Reforming Pioneers. (Waterloo, ONT: Wilfrid Laurier Press, 1996).
[5]Marty Langelan, email correspondence with author, January 22, 2018.
[6] Ibid.