We recently hosted a Christmas party. Though our house is pretty humble, I love hosting parties. As I prepare for them, I'm reminded of how many people love and support our family.
I feel connected to my past when I remove the silver olive boat from the velvet sleeve where it spends most of its life. I have to fill it just before guests arrive, or else my children will each pluck a few olives from it as they walk past, not realizing that, when each of them does this, I can easily see their theft, so it only ever makes a brief appearance. It was a gift from my dissertation advisor and his wife, and every time I pull it out, I remember the gracious hospitality they showed me from the moment I met them (when I was just considering graduate school at the University of Kansas and came for a visit, and they hosted me).
I feel connected to my husband's hometown when I bring the bread plate down from the wall where it hangs. It's a pewter plate, one that is probably owned by half the Midwest. An image of man with a scythe is in the center, the words "Give Us This Day Our Daily Bread" surrounding him. The Larsons, the parents of a high school best friend, gave it to us, as they've probably given it to dozens of other newlyweds. That doesn't diminish its meaning to me: I am reminded that half of my husband's small town turned out to see us married, cheering us on then and wanting the best for us over the long road of marriage.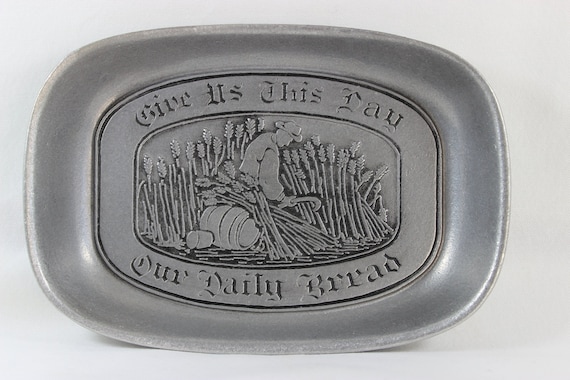 Did you ever get married in central Kansas? Then you probably own this bread plate.
I feel validated as I take the vegetable stew from the oven. The cast iron Dutch oven, a massive beast that was my 30th birthday gift from my in-laws years ago, has made our families hundreds of soups and stews and roasts. It never gets put away. Instead, it sits on the stovetop when not in use, ready for our next meal. As I take this one out, I slide a pan of brownies in–they'll come out perfect, thanks to the new baking pan from my siblings and their families. I can't make a meal in this kitchen without feeling loved by my family. If you have eaten any food I've made, you have been a recipient of that love, too.
In fact, if you walk through our house, you'll see that kind of love everywhere, from our bookshelf (too many gifts there to count!) to our sheets (thanks, Mark!).
This is a (mostly) Mennonite blog, which means we are concerned with simplicity. That can sometimes look a little bit judgmental, I fear. (Check out one of my all-time favorite humor pieces from The Toast for more on that.) One thing I like about being Mennonite is that we have some freedom to figure out what "simplicity" means. For some folks, that means no presents at Christmas or sticking to the 4-gift Christmas challenge (though I can't imagine giving each of my children just ONE book at the start of a 10-day winter vacation).
For me, though, hokey as it sounds, gifts are a love language. That's not just because I feel loved when a thoughtful present is delivered–I feel loved for years (many years! Our anniversary is tomorrow, so that olive boat and bread plate have been with us for many years now!) and years after, each time I encounter that gift again. For me, presents are a visible reminder of the many friends I have and the many people in my life rooting for me. That's the real gift, of course–the things are just the reminder of it, but I love that they are.
Rebecca