Like everyone with a conscience, I'm not sleeping much these days. After years of babies, I know myself well enough to know that nighttime wakefulness has to be a call to prayer and reflection or else I turn into a monster.
If, tonight, you have the same struggle, consider joining me. It can be a comfort, I think, to know that other people are also awake, also wrestling a prayer out of their angry, hurting, scared hearts.
Here is where I'll be focusing tonight: Isaiah 1.
The entire book of Isaiah describes his vision about Judah and Jerusalem. Chapter 1 lays out the sins of the people. And their first sin is that they were loved and guided by God but did not respond to that love
2 Hear me, you heavens! Listen, earth!
    For the Lord has spoken:
"I reared children and brought them up,
    but they have rebelled against me.
3 The ox knows its master,
    the donkey its owner's manger,
but Israel does not know,
    my people do not understand."
They have broken the loving bond that God forged with them. That relationship is damaged. AND they do evil!
4 Woe to the sinful nation,
    a people whose guilt is great,
a brood of evildoers,
    children given to corruption!
They have forsaken the Lord;
    they have spurned the Holy One of Israel
    and turned their backs on him.
Their evil choices have had painful results for them.
5 Why should you be beaten anymore?
    Why do you persist in rebellion?
Your whole head is injured,
    your whole heart afflicted.
6 From the sole of your foot to the top of your head
    there is no soundness—
only wounds and welts
    and open sores,
not cleansed or bandaged
    or soothed with olive oil.
By maintaining evil patterns of behavior and supporting oppressive structures, the people have created a society in which everyone suffers. Their commitment to evil–like our commitment to white supremacy–puts everyone at risk.
7 Your country is desolate,
    your cities burned with fire;
your fields are being stripped by foreigners
    right before you,
    laid waste as when overthrown by strangers.
8 Daughter Zion is left
    like a shelter in a vineyard,
like a hut in a cucumber field,
    like a city under siege.
The image of the foreign invader–taking crops, destroying the land, placing the city under a siege–and the vulnerable woman, with nothing to protect her is a classic image of white nationalism. Donald Trump invokes it all the time. Here, God speaks their exact fears. And they SHOULD be afraid, says Isaiah, for
9 Unless the Lord Almighty
    had left us some survivors,
we would have become like Sodom,
    we would have been like Gomorrah.
Sodom and Gomorrah were marked by their utter sinfulness. Barely a righteous man could be found. Their sin? Being selfish with God's blessings rather than sharing them with strangers.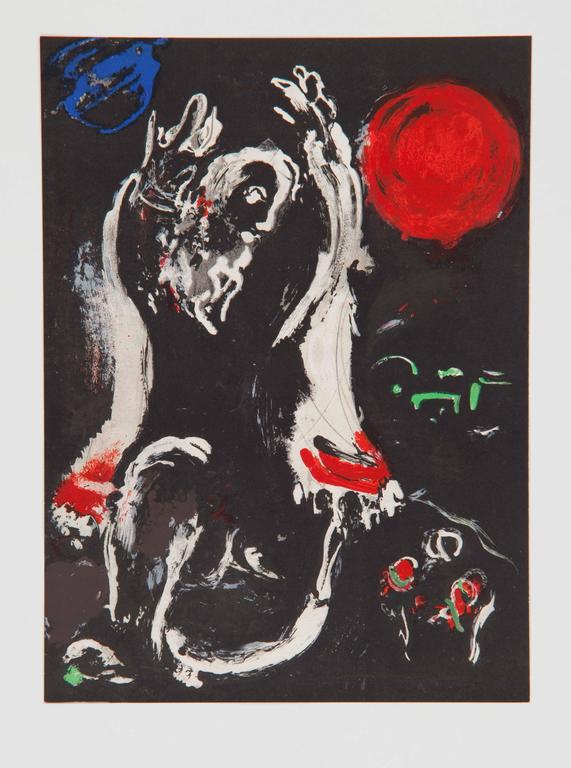 Above, Marc Chagell's 1956 Isaiah
What can the people do? Isaiah has specific instructions:
10 Hear the word of the Lord,
    you rulers of Sodom;
listen to the instruction of our God,
    you people of Gomorrah!
But haven't the people been doing some things right? At least some of them have been performing religious rituals. God, though, is not impressed. Indeed, the ritual acts are more than meaningless–they simply highlight the gap between the religious behaviors and the real-life behaviors of the people. Better that an evildoer doesn't bring such gifts at all because then, at least, he's not a hypocrite.
11 "The multitude of your sacrifices—
    what are they to me?" says the Lord.
"I have more than enough of burnt offerings,
    of rams and the fat of fattened animals;
I have no pleasure
    in the blood of bulls and lambs and goats.
12 When you come to appear before me,
    who has asked this of you,
    this trampling of my courts?
13 Stop bringing meaningless offerings!
    Your incense is detestable to me.
New Moons, Sabbaths and convocations—
    I cannot bear your worthless assemblies.
14 Your New Moon feasts and your appointed festivals
    I hate with all my being.
They have become a burden to me;
    I am weary of bearing them.
But it is not merely that God is angry. God is also removed from the relationship. Even if the people had something good to say, God is gone. God neither looks at the people nor listens to them.
When you spread out your hands in prayer,
    I hide my eyes from you;
even when you offer many prayers,
    I am not listening.
Think of that! For Christians, one of our greatest comforts is that God is always there, even when we have fallen short of our obligations to each other and to God. But the people have done so much harm that God ignores them. 
Above, Marc Chagell's 1968 The Prophet Isaiah. 
What could they have done that is so wrong that even performing rituals and praying cannot repair the relationship?
Your hands are full of blood!
What an image! The people claimed to be lifting up hands in prayer and using them to prepare animal sacrifices and incense for worship, but, in reality, their hands are full of blood. They have victimized others.
What can they do?
16 Wash and make yourselves clean.
    Take your evil deeds out of my sight;
    stop doing wrong.
17 Learn to do right; seek justice.
    Defend the oppressed.[a]
Take up the cause of the fatherless;
    plead the case of the widow.
This is not a new command; it is one of the major themes of the Hebrew Bible. There is no magic here. There is nothing mystical. For Christians who love Isaiah because they think it foretells the suffering of Christ, get focused: the book is about people doing the work of making the world right, of making it just. And God is very specific: that means caring for women and children and the oppressed.
But, really, if the people wanted to do that, they already would have. They are like the rich young man in Mark 10 who is feeling pretty impressed with his adherence to the law but wonders what else he has to do to be saved and is nonplussed to find that it involves the radical act of living a just life, which means giving away his wealth and following Jesus. Isn't there an easier way than seeking justice?
The next passage is beloved by Christians.
18 "Come now, let us settle the matter,"
    says the Lord.
"Though your sins are like scarlet,
    they shall be as white as snow;
though they are red as crimson,
    they shall be like wool.
We like it because it a DOES let us off the hook. We accept Jesus as our personal Lord and Savior (check!), then our sins wiped away (swish!), and then we can keep sinning and keep asking for forgiveness and it's all cool, right?
Of course not. We have no model of Christians in the Christian Scripture engaging so superficially. Jesus himself says that superficial expressions of faith are nothing without obedience.
The Anchor Bible translates it a bit differently:
If your sins are colored scarlet, can the become white like snow?

If dyed crimson red, can they become pure wool?
(This, by the way, is how I learned the passage in my Hebrew Bible class with Jose Nieto at Juniata College.)
This sarcasm seems to make more sense in light of God's anger at their sin. There is no magical method of removing sins. That's why the sacrifices without repentance anger God so much–because they reveal a desire on the part of the people to be forgiven without doing any different.
But it's both easier and harder than that. There is no need for ritual behavior–but there has to be a change in real behavior.
19 If you are willing and obedient,
    you will eat the good things of the land;
20 but if you resist and rebel,
    you will be devoured by the sword."
For the mouth of the Lord has spoken.
Again, this advice is practical: if you keep oppressing people and committing evil against others, you will find yourself, eventually, killed by them.
All of this was already known, though, because, once, the city was faithful, pursuing justice, and living in peace because of it:
21 See how the faithful city
    has become a prostitute!
She once was full of justice;
    righteousness used to dwell in her—
    but now murderers!
22 Your silver has become dross,
    your choice wine is diluted with water.
The entire society is committed to evil because it is organized around oppression.
The justice system is so corrupt that the needy cannot even access it. There is no "pathway" to fair engagement with the legal process. 
23 Your rulers are rebels,
    partners with thieves;
they all love bribes
    and chase after gifts.
They do not defend the cause of the fatherless;
    the widow's case does not come before them.
This failure to enact justice has transformed the relationship between God and the people. Because they rely on systems of oppression, they  are now his enemy.
24 Therefore the Lord, the Lord Almighty,
    the Mighty One of Israel, declares:
"Ah! I will vent my wrath on my foes
    and avenge myself on my enemies.
The consequences of injustice are painful. When we organize ourselves to oppress others, we are also failing to care for ourselves. The oppressors also traumatize themselves. All the energy and money spent holding others back is energy and money taken from some cause that could lift us up.  Maybe, though, there will be a point when the pointless suffering the people inflict on themselves will persuade them to pursue justice instead. If so, the people can be refined, transformed, and saved.
25 I will turn my hand against you;
    I will thoroughly purge away your dross
    and remove all your impurities.
26 I will restore your leaders as in days of old,
    your rulers as at the beginning.
Afterward you will be called
    the City of Righteousness,
    the Faithful City."
But this requires a change of heart and behavior.
27 Zion will be delivered with justice,
    her penitent ones with righteousness.
Not everyone will choose to tear down the systems of injustice.
28 But rebels and sinners will both be broken,
    and those who forsake the Lord will perish.
The sins the people committed have to be addressed. They participated in ritual acts that violated their faith, including worshipping in spaces for idols,
29 "You will be ashamed because of the sacred oaks
    in which you have delighted;
you will be disgraced because of the gardens
    that you have chosen.
And even if they don't change? Their oppression still won't win, and they will be destroyed.
30 You will be like an oak with fading leaves,
    like a garden without water.
31 The mighty man will become tinder
    and his work a spark;
both will burn together,
    with no one to quench the fire."
Above, The Prophecy of Isaiah by Marc Chagell
I like Isaiah, and I especially like Isaiah 1 because it is angry but it also stresses that the consequence of oppression is death for the oppressor. For me, this is a consistent point in my teaching: over and over again, we see that the cultures that are structured around oppression are the ones in which no one flourishes. (This is why we talk about the Civil War and legal segregation all the time in my Intro to Soc class. The South's continued poor outcomes in every category–health, income, education, teen pregnancy, divorce rates, etc.–is a consequence of a societal defense of slavery and racial oppression. That doesn't mean that there is no racism in the North but is a recognition that when you organize your government around inequality, you then spend a lot of resources defending it that could go elsewhere.)
When I pray through Isaiah 1, I find assurance that the natural consequences of oppression can be (though they aren't always, as verse 28 says) persuasive for change.
****
What are you praying through, for, and about tonight? How are you doing it? Share your stories here or on Facebook or in a message so others can join you.
Rebecca