I recently invited friends to share their favorite books about motherhood and mother-relationships in honor of Mother's Day, along with a few words about why they find these titles meaningful. Whether you are looking for a new read or a gift to give, I hope you find something in this list that suits you.
Rebecca
*****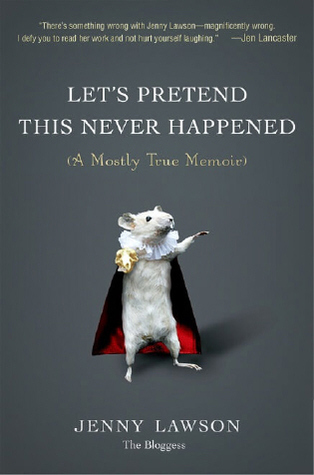 "My grandparents were believers that in the Milford School philosophy: 'children should be neither seen nor heard.' This meant our once-a-month visits involved my parents and grandparents playing very long games of bridge that should never be interrupted and me and my sister reading the ladies magazines that my grandmother collected. My favorite was Good Housekeeping, only because, in the 1980s, the back page was a monthly column by Erma Bombeck. Hers was such a contrast to my own tightly-wound, highly-organized, rule-following family that it was like reading about a different species of people, almost.  Not all the time, but always on those boring Sundays, I wanted to be part of that kind of family.
Lots of parenting memoirs now are frank and funny about the failings of their families but still show warmth and grace for them. Jenny Lawson's writing does that, and I especially love Let's Pretend This Never Happened, which is both about her daughter and her own upbringing in Texas. My grandmother would be horrified at Lawson's potty-mouth and probably also at how loudly I laugh when I read this book." –Claire
"I love Amber Dusik's Crappy Pictures blog, which is just what it says: poorly drawn pictures, mostly about parenting. Most of the cartoons are pretty simple single panel jokes that parents can easily relate to. For me, they often articulate something that I feel but haven't put into words, so when I see Dusik's illustrations of them, I experience a sense of belonging to a community: Oh my gosh, yes! This is what I've been feeling, and lots of mothers feel it too, and today we can laugh about it together. In fact, someone else is laughing about it right now. That means a lot, especially when you are a stay-at-home mother and it's the 97th day of snow in a row."–Gina 
"Given that this is our first Mother's Day without Carrie Fisher and Debbie Reynold's, I think it's appropriate to revisit Postcards from the Edge. Like Suzanne, the main character, I grew up with a mother who was beautiful and commanded a room–and was also the source of a lot of family drama. Time has helped in many ways–both in that I've matured and that we are now, both adults in that wide expanse of 'middle age,' on a relatively equal footing. And so has distance. Now, I'm able to (mostly) laugh at my mother's over-the-top behavior. But even better is laughing at Doris, Suzanne's mother, and being reminded that your situation could be worse.
Carrie Fisher was a good actress, but I think she was an even better writer, and Postcards from the Edge is my favorite of her work."–Jenn
"I lost my mother in 2017, now over a year ago. Maybe I would have made it through this experience without Joan Didion's The Year of Magical Thinking, but I am glad I didn't have to.
Didion lost her husband suddenly to a heart attack one night at dinner, just after they had come from visiting their daughter in the hospital. Quintana, their daughter, was in a coma at the time. While she eventually emerged from it, she died shortly after Didion finished the manuscript. She didn't revise it to incorporate the facts of their daughter's death but instead wrote another memoir, Blue Nights.
I didn't read The Year of Magical Thinking all at once. I parsed it out over the year, allowing myself to lots of time to think about Didion's words. My book is full of highlighted passages, which I then used to start diary entries about my mother's own death. Here is just one: I could not count the times during the average day when something would come up that I needed to tell him. This impulse did not end with his death. What ended was the possibility of response. It inspired me to try to keep count, for a few days, of all the times I wanted to reach out to my mother: to text her a quick question about a family recipe, to call her on my way to work in the morning to ask her plans for the day, or to share a photo with her on Facebook of my children performing in a school play. As Didion says, I couldn't count the times, so I stopped. I continue to imagine my mother's response to my questions and comments, and we have conversations in my mind, but I worry a bit what this will look like as I age. Will I make her into someone she was not? Will she age with me as I age, or will she remain as she was, just in her late 60s, so that I grow older than she is? As I approach the age at which she passed away, will I think I have more insight than she did at the time? Or, worse of all, will these conversations stop, and then what will I have?"–Amy 
"Far from the Tree: Parents, Children, and the Search for Identity by Andrew Solomon isn't exactly heart-warming, but it stretches the questions we ask about parenting, focusing on parents and children who are radically different from each other. It is organized by kinds of differences: children who are deaf born to hearing parents, children with autism or schizophrenia born with parents who do not have these conditions. One chapter is about children conceived in rape, and another is about children who commit mass killings. How we make sense of family when it is wrapped up with violence is one of the harder themes of the book. There are too many stories that are too different, so I don't want to say that there is a single lesson to be learned, but what we see in the stories, over and over, is that parents love children fiercely. We tell our children this, and we know that they cannot really understand it. Solomon helps us, though, understand it a bit better."–Rich
"Rosalie Lightning is a graphic memoir that tells of the unexpected and unexplained loss of artist Tom Hart's two-year-old daughter, whose birth wrote about in Daddy Lightning. In it, he tells the story of her death and the grief that follows and never really ends, though it changes as you learn to be in the world in a different way. The book started as a series of comics he shared on Tumblr, so you can see his process, and some of us have been with him for much of this long journey. The graphic memoir is sad–How can it now be?–but it is also hopeful and so full of love."–Jeff
"If you're a believer, you might not see how much religion shapes childhood and parenting. If you aren't religious, you feel it keenly as friends make inquiries about your new baby's baptism or circumcision or grandparents worry about where they will get their sense of morality. With advancement to each grade in school, you face new teachers and wonder how they'll handle classroom proselytizing–or if they'll engage it in themselves. Will it be a 'Christmas party'? A 'winter holiday one'? Something else? And for the irreligious of us who live in heavily-religious areas, you can feel like you don't have anyone to commiserate with. Thankfully, you do if you read Maria Poloncheck's In Good Faith: Secular Parenting in a Religious World. The author tells how she was raised in an evangelical home in Kansas but isn't rearing her own children that way. The book has reassuring advice for people pursuing non-religious parenting. but religious believers should also consider picking it up so that they can better support and understand their friends who aren't. The book is part memoir and part advice (rooted in both child development literature and personal experience). and it's funny and artful."–Samantha