Why do white evangelicals continue to support Donald Trump in relatively large numbers? In this short series, we're considering a variety of explanations for the entrenchment of so many conservative Christian voters. Today, we consider the very simple explanation that they think of politics as a way of achieving ends that serve themselves, and they think Trump is acting in a way that benefits them.
In short, they like his policies. Trump considers himself a victorious leader, and they agree. And he has kept a number of his promises: he doesn't collect a salary, has opened a 24-hour VA complaint hotline, withdrew from international collaboration on climate change, has made immigration to the US much more difficult, has placed many conservative justices on the bench, has moved the US embassy in Israel from Tel Aviv to Jerusalem, and more. Trump's major accomplishments are offensive to those of us who love democracy or whose faith has at its center a welcome of the poor and oppressed. But for voters who lean toward fascism and for Christians who deny that the incarnated Christ demands we protect children of color, these policies aren't troubling at all–they're exactly what they voted for.
Sure, he also violates the emoluments clause daily, economic inequality has worsened under his leadership (not that he cares about the poor), Australia is currently on fire and Italy is drowning, the national debt is ballooning, the tax base is being undercut, and hate groups are growing, but evangelical voters either aren't bothered by these things (because they like strongmen leaders and hate the poor) or don't think they are real (like climate change or violence against people of color).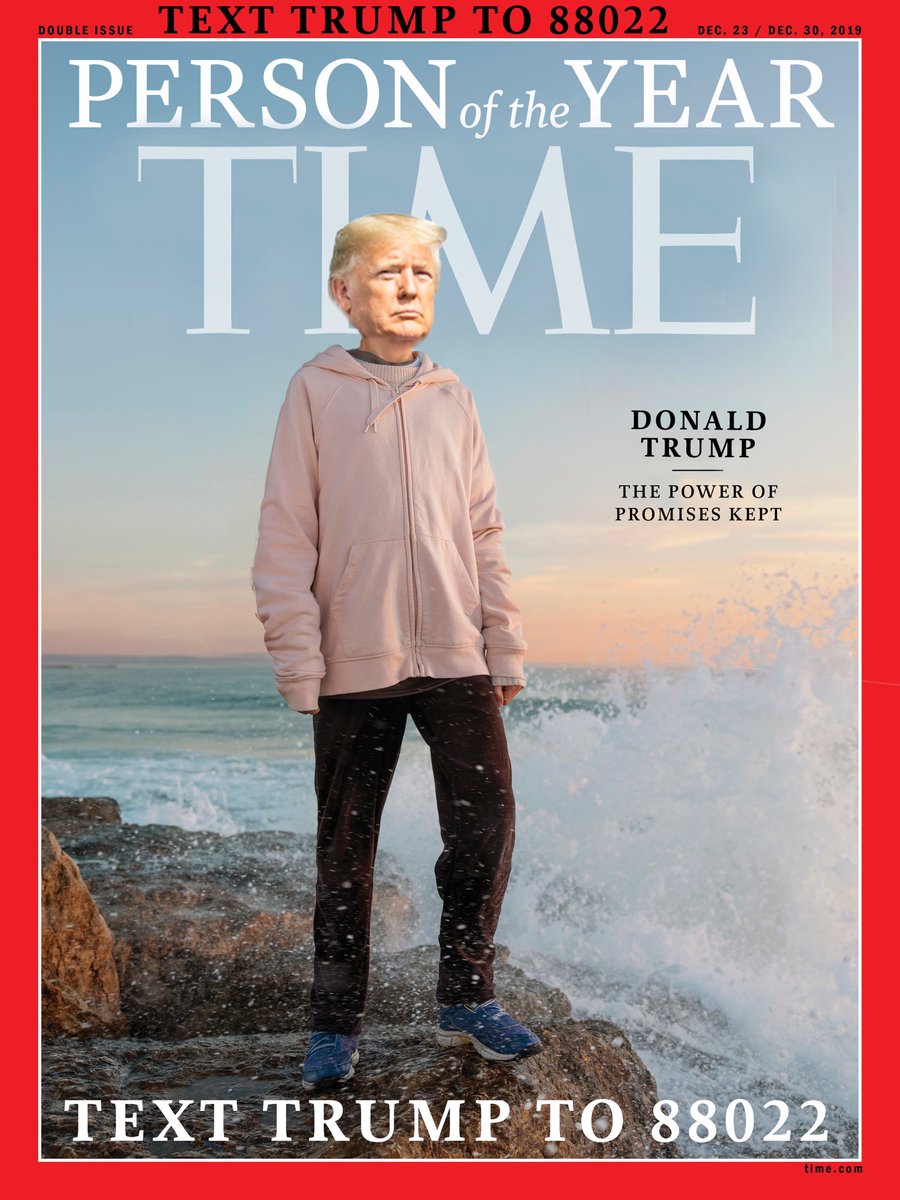 Above, a doctored cover of Time magazine, which awarded its annual honor of Person of the Year to climate change activist Greta Thunberg. Trump released this image, with his head superimposed over her body, to argue that he should have received this honor instead. The cover includes the words "The Power of Promises Kept," one of his 2020 campaign slogans.
It's possible to vote against your own best short-term economic interests because you want to advance the interests of people with less power than you, but I don't think that makes sense to white evangelicals.