I was fortunate this past Sunday to get to participate in a walk for peace and justice in State College, Pennsylvania. Organized by 3rdWay Collective, a campus ministry at Penn State supported by local peace churches, the event included musical performances, singing, reflections, the collective creation of prayer flags, and prayer from local leaders from a variety of congregations and interfaith groups as well as participation from local political leaders.  It concluded with a ceremony of penance at a local synagogue as Christian groups, in particular, expressed sadness, shame, and apology for Christianity's role in promoting anti-Semitism, with a focus on the use of Palm Sunday as cover for anti-Semitism.
I was invited to provide brief comments on the theme of "tearing down walls of hate." I share my prepared remarks here.
Thank you for the invitation to be here, and for your presence here. It's wonderful to celebrate today with a community of people with deep commitments to peace and justice. For me, it's especially joyful because, as campus pastor Ben Wideman said in his introduction, much of my day is typically spent listening to and observing people engaging in hate. So it's a tremendous encouragement to me to see you here.
But I have another reason to be encouraged. In my study of hate groups, I also witness opposition to them. When a hate group pickets or marches or rallies, there are always people who oppose them, and there are always more people who are opposing than supporting them. When you see a close up photograph of a hate event, such as the Unite the Right rally in Charlottesville, you will miss this. Only when you zoom out, looking at the scene from a wider angle, do you see that for every hate actor, there isn't one or two people opposing them, but twenty people standing up to hate for every one promoting it. When white supremacists tried to organize a Unite the Right 2 event in 2018, the 20-40 of them who showed up were met with hundreds of counterprotestors.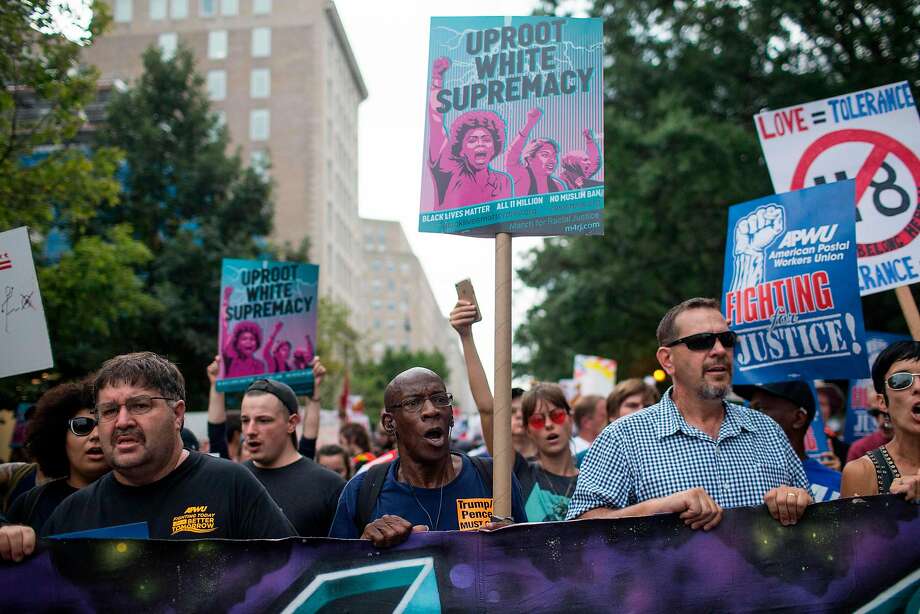 Above, counterprotestors meet the few dozen Unite the Right 2 protestors that met in DC in 2018.
This means that the rise of hate groups has also given us an exponential rise in the number of people combatting hate. And this moment of hate will pass, but the many people who are coming to peace and justice work may stay. There is no silver lining to hate groups, but there can be goodness that rises in response to it, and that goodness can be part of who and what we are as a nation for a long, long time. We may be blessed from this with a generation of people who have thoughtfully engaged peace and justice, learned the skills to support it, and developed the stamina to do this work. In moments when anti-hate work is hard in all kinds of ways—emotionally, mentally, physically, spiritually—we can look to the incredible number of people who are taking up this challenge and feel encouraged as we walk in peace and for justice.
Rebecca