Happy blogoversary, Joel!
My gift to you comes in the form of some good news: something I've been calling (just to myself, not to my students) "The Joel Experiment" is showing promising results.
It works like this:
I ask students in my intro to soc class–mostly first year, first generation students, many of them nontraditional–to talk to people unlike them about what we are discussing in class.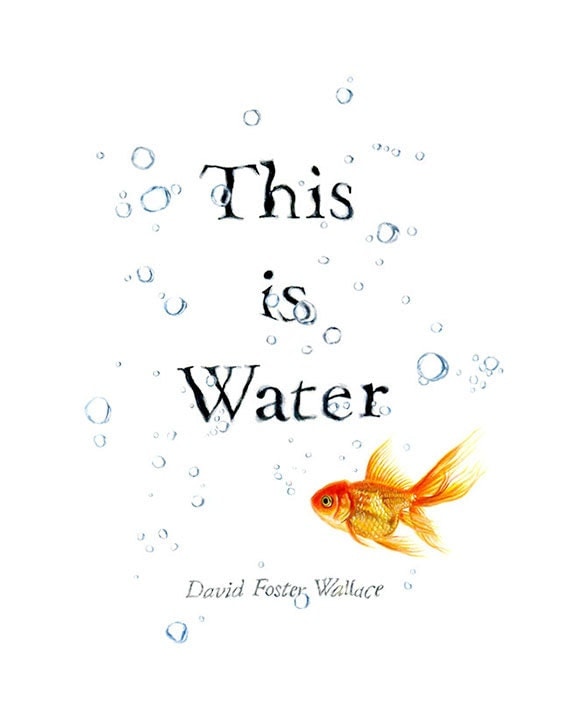 The mission of the sociology classroom: to help fish see water, to foster "awareness of what is so real and essential, so hidden in plain sight all around us, so all the time, that we have to keep reminding ourselves, 'This is water.' 'This is water.'" (If you haven't read David Foster Wallace's little parable This is Water, dear reader, pick up a copy.)
Anyway, this class is fully online. That means we don't run real-time conversations. There is a lot I like about asynchronous online conversations, including the fact that students can take their time, develop their thoughts, and revise their words before they commit to them. BUT they are missing out on the challenge of speaking directly with others, including those who might hold very different opinions.
So, "The Joel Experiment": Students have the option to watch the few documentary films I show in the course with at least one other person who is different from them in some kind of substantial way: race, class, gender, sexuality, age, etc. Films in the course include The Mask You Live In, 13th, Vice's Charlottesville: Race and Terror, and The Virgin Daughters. Then they have to have a conversation with the other person/people and write a short reflection on it.
I have gotten some of the best papers of my teaching from a student who watched 13th, about mass incarceration, with his father, a white Trump-supporting retired police officer. Another, a black woman, watched it with her white roommate.  A young woman watched it with her boyfriend who, she shared, "totally denied the argument" of The Mask You Live In, which is about the way we socialized boys into self-destructive habits, even as he "exemplified it."*
I think that some of my students would say this–having a meaningful conversation about a contentious, sometimes painful topic with someone with a different set of life experiences–is the hardest work of the course. Others would say it is the most meaningful. Many would say it is both. It is also something that many of them rarely get to do, even in college. Facilitating these kinds of conversation is hard work and takes skills (and class time) that many instructors don't have. The presence of guns in more college classrooms makes us even less likely to pursue them.
But, in the privacy of their own lives, when they can choose who they share this experience with, students are doing a great job.
Joel, I know that you have been worried about the future of civil discourse.  I have concerns about how "civility" can be a tool to silence already-marginalized voices. I know you strive to hear voices that challenge your own views.  I'm less concerned, I suspect, about polarization and find that my calling is increasingly to hear those who have been silenced. Both of us have seen people we love hurt in conversations that seem needlessly painful, but I think we both understand that people are sometimes cruel out of their own pain. And a lot of us are suffering right now. In this little experiment I've been doing this year (inspired by your persistence in listening), I see a bit of hope. 
Here's to another year of trying it at Sixoh6!
Rebecca
*shared with permission from the students