My pendulum doesn't swing quite as far as Joel's when it comes to Rod Dreher. I am grateful for his work on Catholic child sex abuse. I can't imagine the anguish of leaving his beloved Catholic church in light of that, but I admire him deeply for following his conscience. And I'm appreciative of his honesty about his regret for supporting the Iraq War. I think we need to give everyone (ourselves included) ample space to turn around when we've made a mistake.
But Dreher has done a lot of damage, too–especially in collapsing gay priests and pedophile priests, a move often used by those who scapegoat gay men for the child rape scandals that have rocked the Catholic church worldwide in their effort to defend the church's cover-ups. And his worry that LGBT acceptance will be the end of Christianity is so overwrought that you have to wonder if it's not the the result of some kind of spiritual or psychological wound, not just a gross, ahistorical statement. (The argument for Indian genocide or the enslavement of Africans was a much bigger affront to faith.) I wish Dreher could see how child sex abuse, misogyny, and anti-LGBT sentiment are related. Both rely on patriarchy, secrecy, and shame. I wish Dreher, who has shown himself to be a "big picture" thinker in many ways, could see that bigger picture. Obviously, he's not a pedophile priest, but his anti-LGBT statements and commitment to repressive gender norms also endanger children.
So when Dreher threatens to head to a monastery, I'm not sure I'd miss him.
Above, a Greek Orthodox monastery in Meteora. Six active convents or monasteries, plus now-emptied ones, rest like eyries upon gigantic rock formations. It's one of my favorite places. Dreher looks to the monastic tradition as a model for retreating from the world, to "embed ourselves in stable communities of faith," in order to deepen spiritual faith.
I've just finished The Benedict Option: A Strategy for Christians in a Post-Christian Nation published by Sentinel, Penguin's right-of-center imprint, and Dreher's argument is pretty clear: we are in "post-Christian Dark Ages," and the only way for Christians to keep their faith is to withdraw. He doesn't call for them to head to actual monasteries but to create stronger Christian "villages"–for example, by homeschooling and living within walking distance of others of faith. The goal is twofold: to strengthen individuals' faith and also to allow Christianity to survive (and maybe one day reappear triumphant, as it did after the Dark Ages).
To the left, an image of St. Benedict of Nursia, the founder of the western monastic tradition.
Gabriel A. Almond, Emmanuel Sivan, and R. Scott Appleby have developed a model for understanding religious groups' orientation to the world: world conquerors, transformers, creators, and renouncers, patterns influenced by structure, chance, and choice. Dreher is calling for Christians to choose to renounce the world.
I'm empathetic to Dreher's position, to an extent. As a native of rural Lancaster County, Pennsylvania, I grew up isolated both physically and culturally. I headed off to a small liberal arts college in the rural mountains of Pennsylvania, a college with historic ties to religion in a region filled with churches and religious believers. In the lead up to Y2K, the land around me was being turned into bunkers–a really extreme Benedict option. I've taught in similar places. I currently live in Utah, where the LDS history of retreat and empire building continue to inform politics and faith. And I've loved living in religious and ethnic enclaves. When I taught at Hesston College, a small Mennonite college in Kansas, I drove past a half dozen Mennonite churches on the way to work. Each morning, I dropped off my child at the Mennonite childcare center and preschool that was located inside the Mennonite nursing home that was on the same block as my Mennonite college. Each afternoon, I returned to find my Mennonite baby being rocked by old Mennonite ladies who volunteered in the center. My child could have lived much of his life–infancy through pre-K, college, then retirement–on that single block. My membership is in a church that started as an intentional community with a common purse. This kind of life can be lovely and also stifling.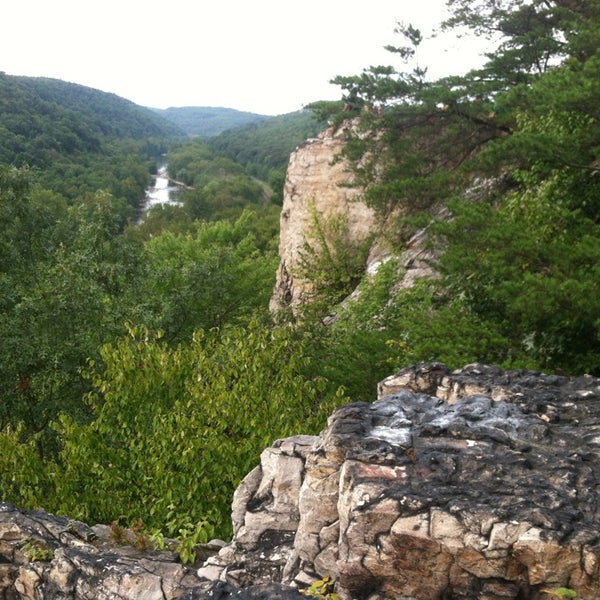 Above, "The Cliffs," a place for retreat and mediation above within walking distance of Juniata College, my alma mater. The Juniata River runs through the valley below.
The Amish might be die Stille im Lande, but American Mennonites have generally been a rural, quiet people too, disengaged from politics, doubtful about the ability of government to get good results, and focused on their spiritual citizenship. The result has been a privileged ignorance about how the overwhelming whiteness of American Mennonites has benefited from institutional racism–like the Homestead Act, which allowed for cheap rural Midwestern settlement after the indigenous people of the region had been removed.
The Mennonite focus on rural life and retreat hasn't always been our story, though. Early Mennonites were urban radicals, rabblerousers who, in rejecting both Catholicism and the Protestant Reformation, were also rejecting the government and demanding radical change in politics. Though much reporting on Mennonite political engagement is about the shock of discovering that Mennonites are politically engaged, engagement, not just retreat, is part of our history. We haven't always been–and many of us still aren't–world renouncers.
World renouncers are relatively rare in Christianity–and for good reasons. First, isolation to a religious community has to be something you are called to; it can't be something you impose on someone else–even one's one children. What is faith if it's not worked out? And how can it be worked out if it's given or demanded by one's parents or community? How strong is a faith that is never tried? How useful is it?
Those drawn to retreat won't survive it if they are choosing it out of fear of the world, as Dreher seems to. A faith that can't survive a pluralistic society won't survive a purified one, either.
Dreher is quite right in his insistence (the real gift in this book) that "what we think does not matter as much as what we do—and how faithfully we do it." And there are times when we must exit the world in order to wrestle with and renew that faith. But these are moments–maybe some moments every day, maybe shorter or longer uninterrupted periods of retreat. For most of us, our calling (and our challenge) is to learn to think and,more importantly, to do our faith in the world where we already are.
Those who retreat in order to save Christianity, as if it is some priceless artwork to be hidden from the Nazis, already have little faith. If your Christianity can't weather the world, it's not worth much. If it doesn't speak to the needs of this present world–the only one we can serve–then the world doesn't need it, and it doesn't deserve to survive.